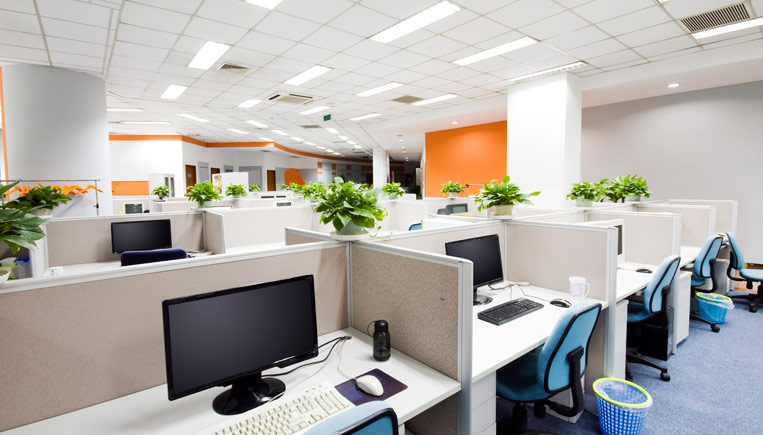 When a business expands, it is important to assess the physical office space. Have you added new employees and new teams? How are desks set up? Do you need to consider which departments work most closely together? It is not helpful when your human resource director and staff members are located far away from the training centre. IT support professionals should be located close to the physical IT hardware while the administrative support staff will want to be close to the file room with printers, scanners, and copiers. When your business expands rapidly, you may add desks and employees without considering the physical layout of the office. A renovation can help to keep all the members of the same team located near one another and close to other areas they use often.
Partitioning
Partitioning office spaces provide added privacy and organisation to a commercial office space. Partitioning is an excellent option to renovate the office without needing to pay a large commercial construction company. There are many different types of office partitioning materials available on the market including
Aluminium framed
Industrial
Moveable walls
Frameless glass
Blinds
Lighting
It is depressing to go to work each day and perform duties in a dark and dingy area. Lighting is very important. It not only allows employees to see their work and provide a better environment to communicate in but also increases employee satisfaction. Employees will work harder in a healthy environment. There are many affordable lighting renovation projects. Synergy products offer sound-absorbing lights that will meet code regulations as well as create an appealing aesthetic for any room. For example, Synergy silent line acoustic lighting is sound-absorbing. It meets Class B fire specifications and includes an LED light. This line of lighting also consists of 60% recycled materials.
Add Greenery
Humans are biophilic creatures. They have an innate desire to connect with nature. It can be difficult to add green living plants and shrubbery to an office space. Living plants must be watered and cared for daily. There are other ways you can add a splash of organic greenery without maintenance. Preserved moss walls are an affordable yet innovative creation. Unlike live plants, preserved moss walls do not require high maintenance. They do not have short life spans. They will add colour and texture to any workspace. Preserved moss walls are made from naturally grown species of lichen and moss.